More Than Two blog
rather than here. And, in typical fashion, I've been so overworked that I haven't been posting the links here on Livejournal. Sigh.
Today's blog post is about poly "evolution." If you hang around the poly community long enough, sooner or later you'll run into someone who says that polyamory is more evolved than monogamy, either in a positive way ("Wow, polyamory is the next stage of spiritual evolution of humanity!") or a negative way ("Polyamory sounds nice and all, but we just aren't evolved enough to make it work").
Either way, it's rubbish. Polyamory is not more evolved, spiritually or otherwise, than monogamy.
This blog post talks about why.
Feel free to respond over there or here.
---
Also, in case you've missed them, there are other good blog posts as well:
Eve Rickert talks about being married and polyamorous
.
I talk about growing up alienated in rural Nebraska
, and how that helped me learn skills useful in polyamory.
I ask the question, are relationships work?
Eve talks about coming out poly
.
Eve talks about what integrity is to her
.
Eve talks about being a grownup
.
I talk about having compassion in tough times
, making tough choices, and why some of the things we might think are good ideas in poly relationships are really terrible ideas.
Eve and I have a dialog about using rules as "training wheels" in polyamory
and what "Utopian poly" means.
I talk about the difference between moving toward and moving away
: relationships where you move toward joy, rather than moving away from fear.
Again, please feel free to comment over there or here.
I've been blogging a great deal about polyamory lately, but I've been doing it over at the
Current Mood:

exhausted
Yesterday, the crowdfunding campaign for
More Than Two
,the
book about polyamory I'm writing with Eve Rickert
, went live, and as of this afternoon we're already north of $2,500 in contributions!
Additionally, Ken Haslam (the curator of the Kinsey Institute polyamory collection) and Alan M (of
Poly in the Media
) have pledged matching contributions up to $6,000 toward the project.
We hosted a crowdfunding launch party last night that drew people from all over the Western seaboard, including Cunning Minx of the
Polyamory Weekly
podcast.
Want to get involved and see what's happening? Check out the project on Indiegogo at
http://igg.me/at/morethantwo/x/4157007
Even if you can't support us directly, use the tools on the campaign page to share te campaign on Twitter, Facebook, and so on, and comment on the project in the Comments! That helps boost our exposure, and if enough people do it, we might even make it to the Indiegogo home page!
We're making this happen!
Current Mood:

busy
District 9.
I liked
District 9.
When I heard that the guy who made
District 9
was doing another movie, this time about the enormous class divide in modern American society, and that it had a space station and explosions and stuff on it, I was as excited as a hyperactive kid on a cotton candy sugar high.
Perhaps not
Prometheus
levels of excited, but excited nonetheless.
And, unlike
Prometheus, Elysium
didn't disappoint. It was exactly what I expected it to be after seeing
District 9:
gorgeous, brutal, sprawling, epic, and nasty. Very, very nasty.
The richest of the rich, the top wealthiest of society, have abandoned Earth altogether in favor of a lovely space station called Elysium, where affordable housing starts at just $250,000,000. The people stuck on Earth, the poorest 99% of society, are mired in sprawling poverty.
The movie goes something like this:
YOUNG CHILD MATT DAMON:
This world sucks.
ORPHANAGE NUN:
Suffering is good. Jesus loves suffering. If you were not meant to suffer, you would have been born rich. Jesus loves the rich.
YOUNG CHILD LOVE INTEREST:
This world sucks.
YOUNG CHILD MATT DAMON:
One day I will take us up to the space station where the super-rich live and everything is awesome.
YOUNG CHILD LOVE INTEREST:
Cool. I will draw on you with a pen now.
(
Clicky here for more! Spoilers beneath the cut...
Collapse
)
I watched
Current Mood:

awake
wrote a blog post called Some Thoughts on Rape Culture
.
Every time I write a blog post like this, as sure as night follows day, the same thing happens. Invariably, I will get at least one, and sometimes several, private emails in my inbox. The content of these emails is always the same, and they're rarely stated in the blog comments. Every time, they're some variant on the same theme:
That must be working pretty good for you, huh? Pretending to be a feminist must really get you laid.
This has happened for years, and this last blog post was no exception.
I'm not quite sure what to make of the assumption that a man who espouses feminist values must be using it as a ploy to get sex. The first time I encountered this, it was quite a head-scratcher, I must confess.
Really?
I thought.
That's your take-away? I am pretending to support values and ideals about women's agency because I'm trying to score sex from feminists? Seriously?
Now, in all fairness, if you look at all my partners, it's very unlikely I would be involved with them if I weren't a "feminist man," or, as I like to call it, "a man who thinks women are people." I have simple tastes; I prefer strong, smart, confident women, and those tend--surprise!--to be women who like being treated as people.
But here's the thing.
The fact that these women would only be likely to get involved with a man who respects the ideals of feminism doesn't mean that they'd get involved with
every
guy who respects those ideals. Treating women as people is necessary but not sufficient; if you treat women as people, that doesn't guarantee you'll be involved with them, but if you don't, you won't. Yes, in order to have sex with my partners, you have to be a dude who's a feminist. You also have to be a dude who they think is worth having sex with, and you can't fake your way into that.
So as a strategy for getting laid, adopting feminist ideals is, by itself, kinda rubbish.
And
pretending
to adopt feminist ideals is even
more
rubbish.
I don't quite get what's going on in the head of some guy who thinks pretending to be feminist is a ploy to get laid, but I have to assume that a guy who thinks that, probably doesn't think women are very smart. If someone pretends to think women are people, but doesn't
actually
think women are people, I suspect the ploy would be revealed rather quickly. Probably some time between appetizers and the main course, and certainly well before any clothes come off. I really don't think it's possible to pretend to be feminist, at least not for any length of time longer than a dinner conversation.
I don't say that rape culture is a thing because I'm hoping to get laid by women who say that rape culture is a thing. I don't think women deserve agency and personal autonomy as a tactic to try to get them to use their agency and personal autonomy to fuck me. I mean, seriously, what the fuck? How is it that someone might seriously think that being nice to feminists is a strategy for getting laid? Is it because he thinks feminists are so well-known for...um, having sex with any guy who's nice to them?
If I were to advocate some kind of duplicitous scheme to get more sex, I would definitely recommend "learn to swing dance" over "pretend to be a feminist." It certainly seems far more likely to succeed. Pretending to be a feminist when you really don't think of women as real people, just to try to get in the pants of women who want to be treated like real people, is just...it...I just...what is this I don't even.
A little while ago, I
More Than Two book blog
about building polyamorous relationships where we move toward something rather than moving away from something. Here's the teaser:
I was recently asked to do a media interview about polyamory. This happens from time to time, and most of the questions I'm asked tend to be fairly predictable: How do you deal with jealousy? What do you tell your parents or your kids? Do you think polyamory is the next cultural revolution?

This interview was quite different, and one of the questions I was asked helped crystallize for me some of the guiding ideals about the relationships I choose.

The question concerned dealing with fears, and while I was answering it, it suddenly occurred to me: throughout my life, the relationships I have found most rewarding have been those that are guided toward something rather than away from something.
You can
read the whole thing
; feel free to respond there or here.
I've just written a blog post in the
lot
of spam.
And, as most folks who follow my blog know, I dedicate some time to tracking down that spam, especially when it involves hacked Web sites.
Lately, I've been getting a tremendous amount of spam that all looks pretty similar. It usually offers phony lose-weight-quick products, miracle hair regrowers, and other health and beauty scams, and the emails all tend to look pretty much the same. Here's an example:
Pretty bog-standard stuff.
These emails invariably contain URLs that are either hacked sites or sites that have no content at all on the home page. The hacked sites are straightforward; the spammers hack the site, put in a new subdirectory, and put an index file that redirects to another site. The sites that have no content on their top level are a puzzler; it's not clear if the spammers are setting up these sites themselves, using fake or stolen credit card information, or are hacking into sites that have been reserved and configured for hosting but have never had any content placed in them.
Where it gets interesting is in what happens after that.
Clicking on the URL in a spam email takes you to the hacked or blank site, and leads to a redirector. The redirector leads to another, and another, and another, and another, until you finally end up at the spam site. The chain of events looks like this:
The first stop on the chain is ow.ly, a URL shortener used by Hootsuite, the social media company that lets you manage multiple Twitter, LinkedIn, Facebook, and other social media accounts.
Hootsuite is a large, rapidly-growing company that is filled with bright, ambitious programmers who appear to know very little about security and nothing at all about abuse prevention. I
wrote a blog post a while ago with a flowchart of Web 2.0 startups
; Hootsuite appears to be somewhere in the early stages of the Loss of Innocence part of the chart, having not yet keyed into the fact that their URL shortener is becoming popular with malware droppers and spammers. (The poor naive dears are still so innocent, they have no mechanism at all for reporting ow.ly spam! I predict that's going to bite them in the ass in an ugly way, soon.)
After that, things get more interesting.
(
click here for technical stuff!
Collapse
)
So to recap: The spammers hack a site, or possibly set up a blank site. They put a redirector on the site which goes through two stages of redirection on sites they probably own, then through a "private affiliate marketing site for seven-figure affiliates" that appears not to care too much about where their affiliate traffic comes from, then through an analytics company, then finally on to the spam site itself.
It has been common practice for a long while for spammers to hack Web sites, install redirectors on them, and point the redirectors to the actual spam Web sites. That way, when people complain about the spam, the hacked Web sites get shut down...but the actual spam sites themselves live on, since nobody can be arsed to follow the chain.
It seems they're getting savvier, though. I can guess what the "invite-only" seven-figure-affiliate thing is probably all about: a network of spammers, for spammers, by spammers. Traditional organized crime could learn a few lessons about organization from online organized crime!
The addition of analytics to the spam shows a new level of sophistication. Spammers have long been skilled at emotional manipulation; analytics data allows them to fine-tune their pitches, carefully monitoring what kind of spam gets the best results.
I get, as most folks do, a lot of spam in my inbox. A
Current Mood:

aggravated
It's been discouraging, in that all the publishers I've talked to want me to make it a personal memoir, and that's not what I want to write. The project has been languishing for a while, by which I mean for several years, lost beneath the shuffle of More Important Matters.
It has finally, at long last, been resurrected. My sweetie
Eve
and I have started working on a new book, one that combines her ideas about polyamory and mine. It's going to be a monster--it's looking to shape up as a 500-page hands-on guide for folks who want to explore polyamory, chock full of problem-solving ideas, hints and tips.
We've
launched a new blog
which will contain progress notes, ideas and essays that don't fit into the Web site More Than Two but also don't make it into the book, and more.
We're going to crowdfund this project; to get around the small but nevertheless still niggling issue that publishers want a different book from the one we want to write, we're launching a full-fledged publishing imprint to go along with it.
If you'd like to know more,
check out the blog
and keep watching this space!
For years, I've been on-again, off-again working on a book on polyamory.
Current Mood:

excited
And, predictably, one of the first comments to that link was along the lines of "this is just another attempt to say that male sexuality is bad."
It doesn't even really matter where the linked blog post is (though if you're interested, it's
here
); the "you're just demonizing men" reaction comes up on any conversation I've ever seen about rape culture, as sure as night follows day. And it's annoying.
It seems to me that if that's your take-away from discussions about rape culture, you aren't paying attention.
Male sexuality is not inherently evil, and acknowledging that rape culture is a thing isn't the same as "demonizing male sexuality." This seems obvious to me, yet it's a persistent trope: saying that we have a culture that normalizes, trivializes, and to a large extent even excuses sexual violence is conflated with demonizing male sexuality, as if, I don't know, male sexuality were somehow inextricably tied to rape or something.
---
I personally have never met any women who believe that male sexuality is tied to rape, though I keep hearing from other men about that's what "feminists think".
When I see a trope become that deeply embedded in a conversation about something, I tend to wonder who it benefits. I definitely think there are men who benefit from this trope. There are some men who want to conflate "discussing the cultural component of sexual violence" with "demonizing all male sexuality." These men want you to read articles like the blog post that led to all this and respond with "you're saying men are evil! You're saying all men are rapists!" That's the interpretation they want you to have.
There are two kinds of men who want you to have that response: rapists, and men who want power over women.
---
Not all men are rapists.
There is, for some people, a knee-jerk response to any conversation about rape culture that goes "You just think all men are rapists!" That isn't what this (and articles like it) say. What they say is that women have to act like all men are
potentially
rapists, because rapists don't wear a special hat or have a special handshake or anything.
A strange man is probably not a rapist, but he
might
be. Since there's no telltale signal that lets you tell a rapist from a not-rapist, women have to assume that a stranger could potentially be a rapist, simply out of self-preservation. A common analogy here is that not every strange dog will bite you, but it's usually a good idea not to approach every strange dog you see with reckless abandon--because
some
of them might bite you, and you have no way of telling which.
Rapists and men who want power over women are quite pleased when people deflect conversations about rape culture with "you're just saying male sexuality is evil," because it shuts down conversation about the reality of rape culture...and that suits them just fine. It allows things to continue on exactly as they are--which is to say, allows society to continue blaming victims of rape for their own attacks ("did you
see
what she was
wearing??!
), allows rape victims who come forward to continue being disbelieved, allows the courts to continue under-prosecuting rape.
All of this serves the needs of men who rape and men who want to control women, and the only side effect (other than the fact that, y'know, women are marginalized) is that some men are treated like they might possibly be a rapist.
You're a guy, and you don't like it? You don't like the idea that women who don't know you might respond as though you are a potential rapist, even though that's something you would never, ever, do? Do something about it! Do something to make our society less welcoming to rapists. Don't trivialize rape. Don't whine "but what about false accusations?" when women talk about how claims of rape are rarely taken seriously. Don't treat tape as a punch line.
Look, this is not rocket science. If you're a guy, you have a disproportionate amount of power, even if you personally don't feel like it's true. It's not enough to say "Well, I'm not a rapist, and I don't trivialize rape, so I don't like it when women treat me like I might be a rapist!" You have to do more. You have to stand up to the people around you who
do
trivialize rape. You have to stand up to people who
are
rapists--yes, I'm talking to you, and yes, statistically, unless you live as a hermit in a one-room cabin in Montana you probably know at least one rapist in your social circle. Even if you don't know who he is.
You don't like the implications of discussing rape culture? Don't dismiss those discussions; that doesn't serve anyone except rapists. Do something about it.
A couple of days ago, someone on a (closed) Facebook group I belong to posted a link to a blog post about rape culture.
Current Mood:

aggravated

After great feats of hard labor deep underground in the data mines, I have used my mighty hammer and anvil to forge a new version of Onyx, the Game of Sexual Exploration:
version 3.6!
This new version fixes some minor bugs in 3.5, but more importantly, it retools things under the hood for improved compatibility with Windows 7 and 8, and versions of Mac OS X beyond 10.8.
Onyx is a free download for Mac, Windows, and Linux. It's a fun, sexy party game for 2-6 players you're close to, or would like to be. Explore new sexual activities, spice up your life, get closer to the people you know, and who knows? Maybe even find true happiness!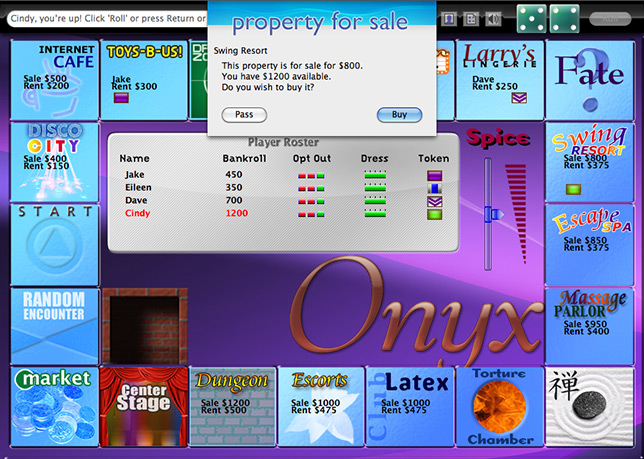 Current Mood:

accomplished
In that post, I
charted the ISPs hosting the most malware-infected sites
, and noted that US ISP GoDaddy was, by far, hosting the most active malware droppers.
I used to be a GoDaddy customer. I hosted many Web sites on their servers, some of them for eleven years, and I recommended them to my clients as well. A couple of years back, I started pulling my sites off GoDaddy and recommending that my clients do the same because they began experiencing severe performance issues affecting their shared hosting database servers.
In all the time I have hosted with them in the past, though, the one thing I've really liked about them was their abuse team. At the time, it was one of the swiftest, most savvy, most responsive abuse and security teams of any major ISP on the market.
Those days appear to be gone.
---
The post I linked to above was written in April. Right now, as I type this, many of the malware droppers I saw back then on GoDaddy's servers are,unbelievably, still active.
GoDaddy, in the
spam
span of just a couple of years, seems to have gone from being one of the top anti-abuse ISPs to being one of the worst. I have, quite literally, seen tiny ISPs in normally spam and malware friendly havens like Romania deal with security and abuse issues better.
One one level, it might be assumed that large ISPs are just getting worse about security and abuse issues in general. After all, an ISP's abuse and security team are paid to reduce the company's revenue, something that's hard to stomach in a world where hosting providers are becoming part of Wall Street, particularly in an economic downturn.
Or it could be a statistical fluke. As ISPs host more sites, the number of sites with security problems might naturally be expected to increase.
But neither of those ideas seems to explain GoDaddy's problems. Other ISPs, even large ISPs which have in the past had serious issues with security (like Dreamhost, a hosting company which has in the past
had serious security problems of its own
), are actually getting
better
--more responsive, more secure, faster to take down malware-infected sites.
Nearly all the ISPs I have seen be targeted by the Kuluoz malware attacks have grown better at detecting them and better at shutting down compromised sites quickly.
Nearly all, that is, except GoDaddy.
---
It's hard to say what's happening inside GoDaddy. What's happening from the outside, however, is plain. Its abuse team does not respond to malware and security reports. Reported malware sites stay active for months. There's a site I first reported to GoDaddy in November that was only finally fixed in May, and I'm not sure it was GoDaddy's doing; the site owner may have secured the site himself. Repeated complaints to GoDaddy's abuse team, in email and using their abuse Web form, produce few or no results.
Meanwhile, the entire Internet suffers. GoDaddy customers have their sites compromised and taken over by organized crime. Web surfers get directed to malware droppers hosted by GoDaddy. GoDaddy appears to be aware of the situation, at least if they monitor their Web forms and abuse address (something which has not been conclusively demonstrated, I'll admit), and chooses not to act.
For a short time, GoDaddy's Twitter team was responsive to these problems. When I started tweeting about GoDaddy-hosted malware droppers which had been active on their servers for months, I would receive responses like this:
I was briefly hopeful, but the infected sites remained active, still spreadingthe Kuluoz malware.
It's hard to understand why, as many ISPs move in the direction of being responsive and security-conscious, GoDaddy is moving in the opposite direction.
At the moment, as I type this blog post, I am aware of at many malware droppers on GoDaddy's servers, many of which have been active for four months or more, including malware droppers on sites like www.buysynthetic.com and www.wiredprojects.com which GoDaddy has been notified of multiple times and which continue to remain active.
At this point, it appears the best course of action is to avoid GoDaddy and to advise others to do the same. I no longer recommend GoDaddy to my clients, and I've pulled my own sites off their servers. I am also transferring my domains away from GoDaddy as they come up for renewal.
It's disappointing to see a large company that was once so responsive to abuse and security issues sink to the point where they're now worse in that regard than ISPs in Romania and Kazakhstan.
There is a saying in the anti-spam community: the normal course of business of a spam-supporting ISP is to go out of business. It will be interesting to see if GoDaddy follows this course, or if they are able to change direction before their inability to act against compromised sites costs them significantly.
---
UPDATE:
Two days after posting this, I received the following email from GoDaddy:
Dear Franklin

Thank you for sharing your feedback with us.

Please rest assured that GoDaddy takes security and malware issues seriously. We have fully investigated your concerns and at this time all reported malware has been removed. We encourage CMS users to follow best practices, keeping core and secondary components such as plug-ins and extensions up to date. We welcome any additional feedback you wish to share in reply.

Thank you for your time and as always, thank you for being a GoDaddy customer.

John M.
Office of the CEO, GoDaddy
14455. N. Hayden Rd. Suite 226
Scottsdale, AZ 85260
CEOTeam@GoDaddy.com
480-505-8828
I've checked the emails I've sent them, and sure enough, all the malware droppers are gone.
Some time ago, I posted about a malware attack hitting a large number of sites all across the globe, in which hacked Web sites were subverted into distributing a Windows-based bit of malware called W32/Kuluoz, which attempts to steal banking, PayPal, eBay, FTP, and other passwords from your computer.
Current Mood:

aggravated